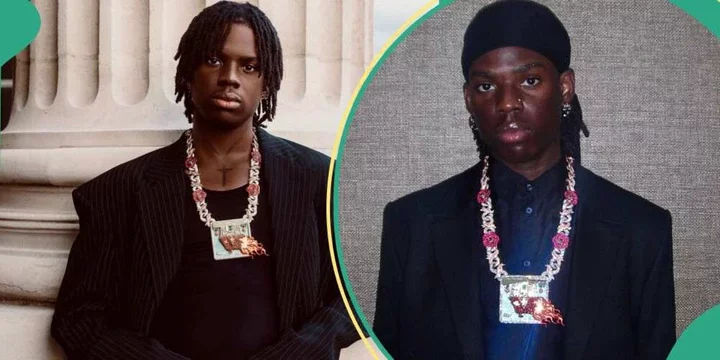 Popular Nigerian singer, Rema stirs up reactions from netizens after his upcoming show in Ethiopia has reportedly been cancelled according to several sources.
The young rapper was set to perform in Ethiopia on September 9, 2023, at the Sheraton Hotel in Addis Ababa but it was gathered that the hotel's management cancelled the event for religious reasons.
Rema's cancelled concert in Ethiopia came as a result of his recently unveiled necklace which showed the image of a church burning upside down as well as inverted crosses. It was said that the music star was accused of being a devil worshipper.
According to reports gathered from The Will, the image on Rema's necklace offended the Ethiopian Orthodox Tewahedo church and the people of Ethiopia and the hotel reacted by cancelling the singer's show.
An Ethiopian lady was also recently a guest on Nigerian media personality, Daddy Freeze's Instagram live show and she spoke on Rema's cancelled concert in her country.
According to her, a press statement was actually released to the effect because Rema's necklace has sparked concerns about him being a devil worshipper.
In her words:
"They made a statement, like a press release in Ethiopia about Rema. Yes, you can imagine, it's a very big deal.
"They're basically saying he is worshipping the devil because of what he has on his neck. And to be honest, I never thought of it myself. And there's more to it; to be honest."
See the video below:
View this post on Instagram
See the full IG live session below:
View this post on Instagram
Reactions as Rema's Ethiopian concert gets cancelled over his necklace
News soon spread on social media about the reason for Rema's Ethiopian concert getting cancelled and it sparked mixed reactions from Nigerians. Some of them noted that his necklace imagery was 'a bit much'.
Read some of their comments below:
Iamchikeagada:
"It's great to see a country standing for what they believe in . I love rema's music but the idea of the album cover was abit much truth be told whoever came up with that idea is definitely Atheist and I wanna believe it isn't Rema . A burning Church and the cross Upside Down . Let's be honest."
Stop_playin001:
"Funny enough it's true, Check the post Rema made for the necklace launching… The Goat in it Represents Baphomet (the devils goat) and Rema has a tat on him called the devils tree…"
generation_only511:
"Ethiopia is one of the oldest countries in Africa, with a lot of biblical history and others. A lot is happening we don't know about religion and practices that are so deep and sign we use that we don't understand nor know meaning of it ."
Sapiosxxual_:
"People that pay attention to details and they don't just see things for what they are, people that tend to look for more meaning or Deeper meaning to a symbol,pictures or videos knows about this. Open your eyes."
holapumping:
"Abi dem no fit afford REMA money make dem talk true Abeg leave religion ."
anita_keys__:
"Person do chain for billions and because of show where Dey wan pay small money go lose billions chain you try , nothing like juju abeg."
1tashaice:
"This is very good, I've been saying this since but you people won't understand, nobody is too righteous but I think he's making his own very obvious."
risskii_sound:
"So na today una know say rema don sell him soul."
ozzyfrozh01′:
"A burning church and cross upside down isn't just ordinary tbh but let's say people are just too easy to manipulate these days."