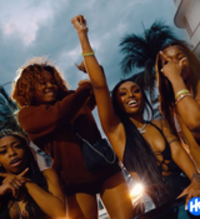 New TikTok Viral Challenge song by Lay Bankz – Na Na Na Mp3 Download
Talented American Female musician, Lay Bankz comes through with a brand new music release titled 'Na Na Na'… Enjoy!
Lay Bankz is an American TikToker, Instagrammer, singer and model, She usually uploads dancing videos and comedy content. She has gained over 384K followers and 13 million likes on her self-titled TikTok account.
This song has gone viral on various social media trends and Dance Challenges, make sure to cop yours here to join the trend.
Make sure to share this hot Jam as you enjoy and drop your comments below.
Track Info:
Artist: Lay Bankz
Category: Hip Hop
Genre: Rap
Released: 2023
Duration: 01:40
Producers: Needlz & Dominic Gordon
Stream and Download below;
Quotable Lyrics:
Sunshine on the beach with my back out
In a two-piece, make a niggа go (wow, wow)
Start blickin', make the city go black out
Walk with a limp hip hurt like (ow, ow)
Takin' pics with the fans
Don't gotta talk, I'ma just do my dance
They do my emotes, they be tryna steal my stance
I am not human, I'm way too advanced
Come here, come get this