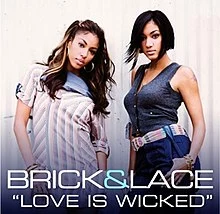 Love Is Wicked by Brick & Lace Download
Today we bring you you to the era of this trending track titled 'Love Is Wicked' performed by Brick & Lace.
Brick & Lace are a Jamaican-American dancehall/R&B musical duo consisting of sisters Nyanda and Nailah Thorbourne. According to Billboard, their name reflects the tough and the soft sides of femininity. They are originally signed to the Geffen label as a trio with their third sister Tasha.
This track and the lyrics are about a guy that you know is not good for you but you just can't leave him" says Brick and Lace. Love is Wicked was a hit in worldwide and I'm sure you would enjoy this throwback.
Quotable Lyrics
Wait for your call cah your love is wicked
Cyaan' sleep at all cah your love is wicked (your love is wicked)
Pain in my heart cah your love is wicked
But the loving weh you give, don't you know is wicked?
Uh, okay yeah, yeah
Uh (uh), Brick and Lace inna di place
Yuh love is wicked, wicked, wicked
Kill 'em
Track Info:
Album: Love is Wicked (New International Version)
Artist: Brick & Lace
Released: 2007
Genre: UK R&B
Watch Below;